Listen for yourself.
Vic Martin plays the keyboards, he also played in the Eurythmics and with Gary Moore.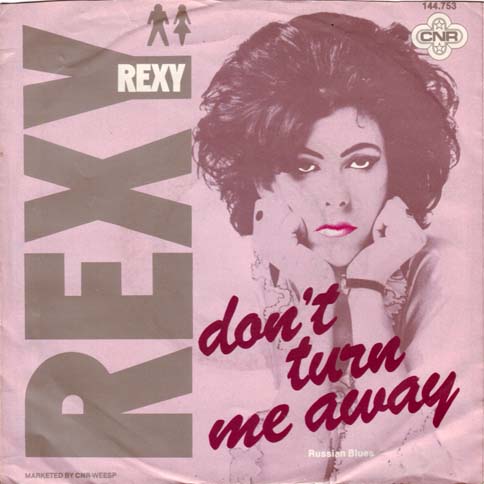 [Listen low quality]
[Download high quality]
I also have the lp, so if there are enough requests I'll post it.
Saturday, October 21, 2006, 11:32 PM
nice to see the sleave for this....my frind had this 45 while back i think lovefingers.org posted this jam
..thanks for posting the bside!
Sunday, October 22, 2006, 01:08 AM
And who knows, maybe I'll post the lp in a few weeks.
Tuesday, October 24, 2006, 05:44 AM
that would be rad!
thanks again~
Wednesday, December 24, 2008, 09:11 AM
Wow, thanks for having this on the Internet. I think it was only played a few times on Radio One in the UK, I had to special order it. It's one of my favorite "songs that nobody heard of" (see the URL link). Was it a big hit in Europe? My UK single (Alien 12 on Alien Records) has no picture sleeve, lucky you! My copy is marked (P) & (C) 1980, are you sure your "CNR" single is from 1979?
The vinyl sounds better still than your high-quality MP3 with that fat synth bass and Rex Nayman's dry vocals. FWIW, in VLC Player the Media info for the MP3 shows a pink car engine (but VLC gets the song length wrong, so who knows)?!
Most of the album "Running out of Time" is pretty awful, only "Alien" ("So you wanna be alien too... huh?!!)" comes close to the heights of this distressed, alien, FANTASTIC song. You motivated me to put the lyrics on
LyricWiki
and add your single to
discography at Discogs.com
.
Cheers!
Saturday, March 7, 2009, 07:02 PM
Please the LP :)
Sunday, August 15, 2010, 06:47 PM

wow I remember buying this in 1980, I played it to death, still got the 7" single but it doesn't play
aaa
very well, just re downloaded it and I still think its fantastic, simple and quirky. I still love this record after all these years, love to find other stuff by Rexy
Cheers Mark...
Wednesday, August 27, 2014, 11:33 PM
Hey, any chance of a re-download of this?
I know I'm too late:(
atsluik@gmail.com
Thursday, February 19, 2015, 11:56 PM

Loving this. Bought it by chance way back. Agree with most of the comments - quirky and strangely touching - well worth adding to my collection again. Thanks.
If you like this I guess you will love Doot Doot by Freur.
Add Comment
Fill out the form below to add your own comments.