Some liner stuff:
The amazing thing about all the sounds is not that they are done one voice at a time, but rather one finger at a time. The silly machine only plays one note at a time and the temptation play a chord must be overcome... you only get the lowest note if you press more than one key. Improvisation is difficult but far from impossible if you redefine the problem.
We, being faced with the limitations of the Moog as far as chords are concerned. built a gadget called the
Protorooter
that structures chords above the note the keyboard is playing to alleviate the problem somewhat.
Compared with the old cut-and-splice way of making electronic music, the Moog is a tune boon. As great as we feel the Moog is for making music in the light of what is possible and what Mr. Moog is no doubt cooking up, the Moogs of today are like the Kon Tiki. It takes quite a bit of physical tuning and set-up time to achieve the sounds, though once tuned they go down very quickly.
Moog himself is quite a guy, too. Most cooperative, and now has a weekly emissary to New York to touch up any fixits and keep everyone up on the new discoveries. Moog really made quite an invention — and how appropriately space-age his name is! How bland would be the "Jones" or the "Irving Spidor-sha" as a nickname for the gadget. If he ever comes to town for a lecture, go listen.
There is nothing like inventing a synthesizer to give you expertise in its use.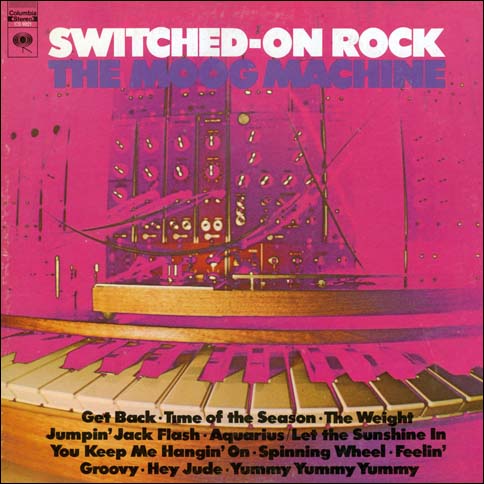 Side one:
1 Spinning Wheel
2 Jumpin' Jack Flash
3 The 59th Street Bridge Song (Feelin' Groovy)
4 Get Back
5 Yummy Yummy Yummy
Side two:
1 The Weight
2 Time Of The Season
3 Aquarius / Let The Sunshine In
4 You Keep Me Hangin' On
5 Hey Jude
[Listen low quality]
[Download high quality]
Back
Next