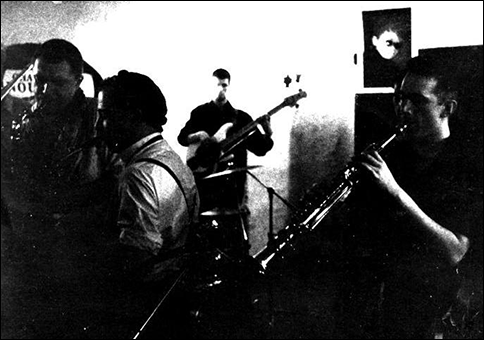 Some of the accompanied notes:
In the grey days of late 1970s post-punk Manchester, youth culture was a serious affair: every musical performance was measured mostly by the conviction of its delivery. The term 'New Wave' opened up free vistas where acquired skills could once again be exercised after punk's monochrome blur. It could be applied to anything from a James 'Blood' Ulmer record to the latest Throbbing Gristle release, Magazine to Swell Maps. Move outside that terrain into Sun Ra, Parliament, Frank Sinatra and Martin Denny, and your options were suddenly without limit.
Then came Tony Wilson's Factory Club (at the Russell Club in Hulme) offering an open invitation to experiment that was taken up when Ken Hollings, Howard Walmsley, Eddie Sherwood and a few others decided to make some noise to accompany their 16mm silent epic Biting Tongues. A further performance followed a few weeks later, when Colin Seddon and Graham Massey disbanded their Post Natals project and joined up. The film itself, a flashing series of negative images, became a memory; the name remained.
[Listen low quality]
[Download high quality]
Back
Next