Ultra Lounge Wild, Cool & Swingin'
a magnificent collection of the first three
Mrs. Miller
lp's. Those were all Capitol lp's. But there is a fourth lp on Amaret:
Mrs. Miller Does her thing
. This is never (officially) released on cd.
"After three albums, Mrs. Miller was dropped from Capitol Records, only to be picked up by the small Amaret label. On her forth album, 'Mrs. Miller Does Her Thing' the reality of Elva Miller was even further distorted. On the cover she is pictured in a psychedelic hippie dress, with an outreached plate of green brownies. The album included songs such as Mary Jane, Green Tambourine, Green Thumb, Renaissance of Smut, and the infamous Granny Bopper.
Elva was completely unaware of the drug symbolism until the album was already in stores. The song 'Mary Jane' became the theme for a feature film of the same name, which featured pop star Fabian as high school teacher fighting a marijuana gang.
Record executives had transformed the image of Mrs. Miller into an aspiring late sixties drug icon. Whereas Elva was happy to join in on the joke before, here is when the joke began to betray her."
from The Elva Miller Historical Society Comprehensive Biography
.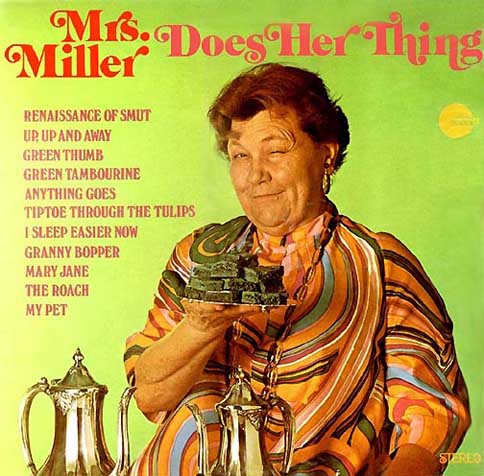 Like any aspiring singer, Mrs. Elva Miller has had to struggle to be heard. In her case, though, the struggle has been going on for most of her 58 years. When she was a child, people were forever telling her to knock off the singing and please go skip rope or something. But she persevered, joined the high school glee club and the church choir, later studied voice for seven years at Pomona College.
Her husband felt that everyone should have an outlet, so he underwrote the cost of her first record-cutting sessions. It was during one of her recording sessions at Capitol Records studio in Hollywood that Mrs. Miller was discovered and introduced to a company producer who immediately signed her to a contract.
'The record certainly wasn't my idea,' explains Mrs. Miller. 'I'd never attempted popular songs, the studio men just popped the music in my hands- sorta sneaky like- and I started.'
from www.mrsmillersworld.com
.
In 1967 Mrs. Miller had a role as herself in
The Cool Ones
, you can
see here part on YouTube
.
Side one:
1 Renaissance of Smut
2 Up Up and Away
3 Anything Goes
4 Green Tambourine
5 Tiptoe Through The Tulips
Side two:
1 Green Thumb
2 The Roach
3 I Sleep Easier Now
4 My Pet
5 Mary Jane
6 Granny Bopper
[Listen low quality fragments]
[Download high quality]
Back
Next