Two recordings are made at Midsummer Pop Festival in the village of Meerlo, Limburg, the south of the Netherlands. A small two days and a night festival, with all Dutch bands except for one unknown English act: Genesis. Great show.
Oh yeah, and there was Nico, she sung in the middle of the night, so I couldn't sleep.
The major and brass band of Meerlo opened the festival, the boy scouts did the entrance, the horse club the surveillance and the dog shit on my sleeping bag. All very innocent, you could buy all kind of drugs (including cocaine and heroine) all over the place. The festival had to stop halfway the second day because of the heavy rain and thunder.
In Venlo 2001, they showed a documentary about this festival.
On 30:30 you can see a glimpse of Robert Jan Stips.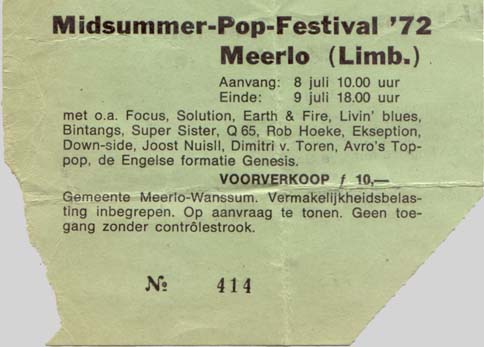 The photos on the cover are taken on another gig Supersister did in 1971 in the Youth Centre S61 in Roermond (also in Limburg, guess where I come from). I don't remember who made them. I developed the negatives and glued some test prints in my school agenda.
UPDATE:
I found a photo negative where I wrote 'Supersister 9 april 1972, photographer: Tabe Jorritsma'.
The photos are now in the possession of Robert Jan Stips, Tabe gave them to him.
1 - Introduction (Live Baarn 1971)
2 - Present from Nancy (Live Baarn 1971)
3 - A girl named You (Live Baarn 1971)
4 - Judy goes on Holiday (Live Meerlo 1972)
5 - Radio (Live Meerlo 1972)
6 - A girl named You (7" version)
7 - Missing Link
8 - No tree will grow (7" version)
9 - Dead dog
10 - Wow (7" studio version)
11 - Drs. D
12 - Bagoas (7" version)
13 - Memories are new (1974 7" version)
14 - Coconut Woman (with Los Alegros)
15 - Here comes the doctor (with Los Alegros)
UPDATE 2:
The live recordings are now officially available on cd/lp
Long Live Supersister!
The singles are part of the 6 cd box
Memories Are New
.
[Listen low quality]
[Download high quality]
Back
Next