Bakersfield Boogie Boys
covered the red neck
Merle Haggard
song
Okie from Muskogee
in a way
Devo
did with
(I can't get no) Satisfaction
.
Get off my cloud (Rolling Stones)
and
I get around (Beach Boys)
got a more
Flying Lizards
like treatment, not at least caused by the flat voice of Shari Famous.
Flying Tigers
is an original song with wah-wah guitar and Jack Bruce bass, so it occasionally sounds like Cream, but it's not Ginger Baker who is drumming.
Okie from Muskogee first appeared on
Devotees
, a tribute-album before that word existed. It later appeared on the sampler
Tales from the Rhino 2
.
1 - Okie from Muskogee [2:01]
2 - Get off my cloud [2:22]
3 - I get around [2:16]
4 - Flying Tigers [3:30]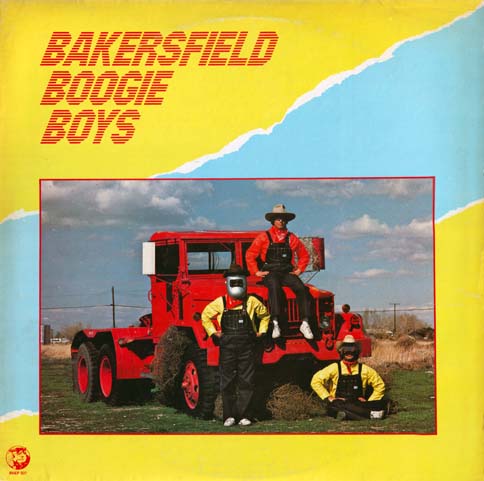 From the back sleeve text:
The Bakersfield Boogie Boys originally appeared on the Devotees album (composed of bands sounding like Devo) performing a strange, Devo-like version of "Okie From Muskogee." Many, like Los Angeles New Wave deejay Rodney Bingenheimer, thought the group was Devo in disguise. Rumors to the contrary, the Bakersfield Boogie Boys are in actual fact three young men from
Bakersfield, California
.
Citing influences of Devo, the Vanilla Fudge, early Frank Zappa and late Marianne Faithful, the BBB consider themselves slightly out-of-place with the country and western confines of their hometown. "We're a rarity for Bakersfield," says bassist Billy Joe Conrad, "because none of us know anyone related to Buck Owens."
By day Conrad works at a library, guitarist Jimmie Lee Grabert at a paint store, and drummer Gary Hoffman at
Der Wienerschnitzel
. The band has been rehearsing for almost a year, but live performances so far have been limited to a few appearances in their area. The members hope to make enough money from the sale of this record to purchase a synthesizer, and perhaps move to the
Van Nuys area
, granting them access to Los Angeles' flourishing club scene.
Not shared anymore.
Back
Next